Media Partners
Leslie Sedibe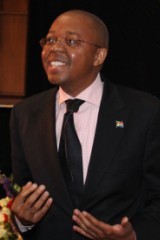 ​Leslie Sedibe is an admitted advocate of the High Court of South Africa. He holds a BA, LLB, LLM (Tax) from Wits University. Prior to joining Proudly South Africa as CEO, Adv Sedibe served as Head of Legal for the 2010 FIFA World Cup organising committee: South Africa.

He later became the CEO of the South African Football Association during the 2010 FIFA World Cup. Adv Sedibe has also served on the Boards of various companies including EMI, the SABC, SAFA and the 2010 FIFA World Cup LOC. He also served on the Film and Publication Board as the Deputy Chairperson and Chaired the Board of the Recording Industry of South Africa and the South African Music Awards.

During his at the World Cup, Adv Sedibe also served as chairperson of the National Rights Protection Program.
See other speakers